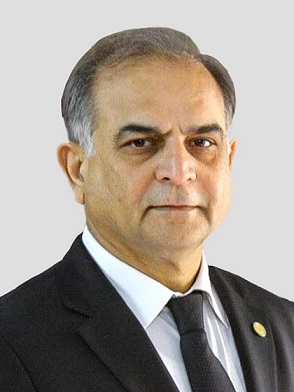 Aziz Nishtar
LLM (Harvard), ITP (Harvard), LLB, MPA (QAU)
Aziz is the co-founder and the current managing partner of the firm. In addition to his current profession of lawyering he earlier has worked in various positions such as Deputy Commissioner of Inland Revenue for 12 years, international tax news editor with a highly prestigious US tax journal, in-house tax counsel with a top Pakistani blue chip corporation, an international trade development officer and business strategy planner with Pakistan International Airline which then was a globally revered corporation.
In recent past he has served on the Boards of Privatization Commission and the federal Board of Investment of Pakistan overseeing a number of privatization transactions.
His main areas of practice include:
International taxation
Corporation tax
Sales tax (VAT)(VAT)
Provincial sales tax on service
Governance of multinational enterprises
Corporate governance
Public private partnership
Aziz has advised governments and institutions on legislative process and drafting on various issues especially business, investment and international law. As Senior Legislative Drafting Expert with British Council he advised Pakistan's National Assembly Secretariat on developing its legislative drafting capacity.
Aziz is also a professionally trained mediator accredited internationally by the Centre for Effective Dispute Resolution, UK. He is part of a small core group of mediators to pilot modern commercial mediations in Pakistan.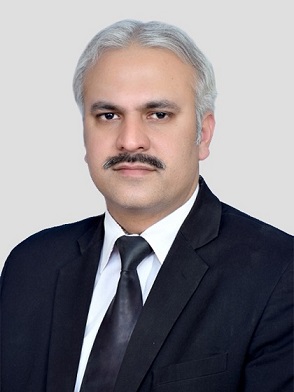 Atir Aqeel Ansari
LLM (LONDON), LLB (IUB), BCom
Atir Ansari has done his LLM in Commercial & Corporate Law from Queen Mary College, University of London and his LLB from Islamia University, Bahawalpur. His main areas of interest are commercial laws, taxation, legal research and interpretation of statutes. He has a strong interest in economic laws including the corporate governance, fair trade practices, competition, and contract obligations and breach.
He has an uncanny knack of understanding transactions and translating them into legal documents such as agreements and, operational manuals. He has worked on several complex commercial transactions. He knows the art of making a complex transaction doable and advises well on how to achieve a commercial purpose while completely abiding by law.
With strong research and language skills his ability to frame clear legal opinion on delicate and complex legal issues is appreciated well. He has an ability to deal with any legal issue appropriately and he reflects well with clear and solution oriented approach on diverse complexities.
He has a very strong command over taxation, company and contract laws in addition to general civil and administrative laws and has successfully represented the clients in a number of cases before the administrative authorities and the high courts.
Atir is based at Karachi.
Masood Anwar
LLB, BCom
Masood is a senior associate at Islamabad office. Based at Islamabad he leads the litigation team dealing in civil, revenue, corporate and banking laws matters at various administrative, regulatory and judicial litigation stages. With his education in commerce and experience in dealing with corporate and banking matters he has a strong understanding of the problems that businesses face in the real life and how to get those resolved through using various forums in the administrative and judicial machinery.
Ajmal Khan
LLB (KU), MA, BCom
Ajmal Khan is an experienced lawyer in litigating generally in the areas of civil and commercial laws in the high court and district courts. From business organizations' standpoint his key contribution to the firm is in the areas of forming, registering and getting tax approval of funds managing long term benefits such as pension funds, gratuity funds, superannuation funds, etc. and assists the senior lawyers in prosecuting cases at the high court level. He also handles business organizations' compensation compliance.
Shahid Waseem
ACMA, BCom
Shahid is a qualified practicing accountant and works as senior tax associate at Islamabad office. He handles the tax compliance and tax audit matters for our clients and is the firm's interface with the Inland Revenue. He qualified as Cost & Management Accountant in 2006 and since then he has been practicing as the professional accountant with various organizations. In addition to the tax compliance and audit he handles accounting and audit assignments for various mid-level business organizations.
Muhammad Bilal
LLB (IIU), LLM (TOULOUSE)
Bilal handles matters of civil litigation at high court and district court level. He holds an LLM degree from USC, Toulouse and an LLB from International Islamic University, Islamabad. Bilal has a strong litigation background acquired under the able mentorship of Mr Aziz A. Munshi, the former Attorney General of Pakistan. Bilal has studied the EU Competition Law as one of his special interest areas.
Shafqat Rasool
LLM, LLB, BA
Shafqat has practiced at Bahawalpur and has a respectable professional standing at the Bar. He works on corporate and civil matters both at the regulator level as well as the litigation stage. In his earlier work he has handled both civil and criminal matters both at lower judiciary level as well as High Courts which gives him insight into the possible civil and criminal law problems in business transactions.
Khawaja Azeem Armaghan
LLB (London), BA
Azeem Armaghan is an Advocate of the High Court. He received his LLB (Hons) Degree from the University of London in 2017 and embarked the profession via the traditional route by joining a prominent criminal law chamber in Islamabad . Within this short span of time he developed appreciable understanding of the Criminal Procedure and Litigation and continues to master the discipline.
Azeem joined us in September, 2020 as an Associate and has since worked on dozens of cases. He is handling banking, company and business law matters at our Law firm and regularly assists the Senior legal team in matters pending before the high courts as well as the Supreme Court of Pakistan.
Farrukh Ali Khan
LLM (PSU), LLB (BU)
Farrukh is a Junior Associate at Islamabad office where he assists senior lawyers dealing with corporate, income taxation, sales tax and employment matters.
Farrukh has done his LLM from Pennsylvania State University, USA where he majored in Tax Law in which he studied United States Federal Income Tax, Corporate Tax and Partnership Tax, along with Corporations. Earlier he did LLB from Bahria University, Islamabad.
During his LLB degree course he worked as an intern at Election Commission of Pakistan which gave him significant professional exposure to the electoral laws as well people's representation matters.
Non-Lawyer Expert Specialists
Ibrahim Farooqi
MSC (QAU), BA (Pb)
Ibrahim Farooqi is a former senior officer of Pakistan's Inland Revenue Service, which he joined in 1979. He mainly advises clients on income tax, compensation structuring, real estate taxation.
He has served in various parts of Pakistan implementing tax laws and assessing taxable incomes and taxes of a wide variety of taxpayer including big corporations, and other non-incorporated businesses of various sizes. He also authored a number of booklets and guides for the information of taxpayer and tax authorities. His keen interest and fine understanding of the taxation system afforded him an opportunity to teach various level tax officers on withholding taxes at the Directorate of Training, Federal Board of Revenue, Lahore and Rawalpindi.
Due to his keen interest in the judicial application of the tax laws and taxpayers' effective grievance redressal he has worked for 5 years as Secretary, Judicial Member Wing in the FBR.